For lovers of good things, sex happens to be one of the sweetest things on this paradise we live on. It becomes sweeter when you find the right lube to ease the tension and enhance the pleasure. Whether water-based, silicone-based or oil-based, for some there is nothing like finding that particular best warming lube to give that tingling warm sensation during the heat of the moment.
Why do you need the best warming lube?
The best warming lubes are produced using some special ingredients of which we have glycerol as one of the most commonly used. Glycerol is a thick and gluey sugar alcohol. Capsaicin is another prominent ingredient used in warming lubes and these ingredients are responsible for the warm feeling that arises from the use of the best warming lubes.
These lubes do not get warmth but helps to make the body warm to produce a feeling that is synonymous with the heat of sexual passion and eroticism. For people struggling with orgasm, this can be a form of help along the way.
Things to look out for when shopping for warming lubes
There are a few things you may which to know whenever you'd want to seek out the best warming lube to go along with your sexual encounters for maximum enjoyment. If you've been frequenting this website, you would have known by now that lubes come in one of three forms which are water-based, oil-based or silicon-based. You'll easily find info and details about each of these types of lube in many of our other articles.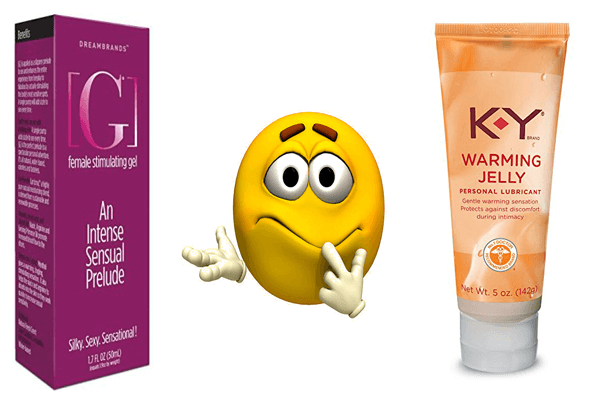 Water-based lubes are great for all kinds of sex. They are easily cleaned and are usable with condoms and sex toys. They are though not to be used in showers as they'll be easily dissolved in water. The silicone-based lubes are great for shower sex as they can hold up in the presence of water. They are super-slippery and will continue for as long as you want. They are not to be used with silicone toys though as they'll degrade the surface of those toys.
Oil-based lubes are great too. They hold up for long, won't get sticky or tacky but are not good to be used with condoms. They will induce porosity of the condom resulting in breakage. This, in turn, increases the risk of STIs and pregnancy. The oil-based lubricants, unlike their water-based counterparts, stains fabric and clothing easily and may leave behind the oily or greasy after-effect.
Skin Sensitivity
People with skin sensitivity should also be careful as many of these warming lubes may induce allergic responses or sensitivity to some of the ingredients used to manufacture these products. Generally, the water-based warming lubes are friendly for sensitive skins.
4 Best Warming Lubes reviewed

We reviewed some of the most popular names in the warming lubes section and in here, we present to you, the best warming lubes with which you can easily get the warming sensation and perfect lubrication to feel the flaming heat of erotic and passionate sessions.
1. K-Y Warming Jelly
Name: K-Y Warming Jelly Our Rating:
(4 / 5)
The K Y brand of lubricants made a grand entry into the sex lubricants markets and so far, they've been doing great. The K Y Warming Jelly is arguably the best warming lube we have reviewed and it is perfect for creating that warm sensation along with perfect lubrication for vaginal dryness. The Jelly moisturizes the body, does not get sticky or tacky and creates a warm outlook that is the envy of many other lubes.
Pros
Jelly is slick and slippery enough for even critical dryness
Lasts long and does not get sticky or tacky
Most users love the warm sensation of this sex lubricant
Does not smell weird or oddly of chemicals
Cons
Some users do not love the texture
2. Ocean Sensuals G Natural Female Stimulating Gel and Personal Lubricant
Name: Ocean Sensuals [G] Natural Female Stimulating Gel Our Rating:
(3.7 / 5)
Ocean Sensuals is one of the best brands as far as sex lubricants are concerned and this particular Natural Female Stimulating Gel is one natural lube that lots of people around the globe are finding it difficult to ignore. This product is made from naturally-sourced organic topical stimulants with a silky smooth texture and a kind of warmth that makes foreplay and masturbation as erotic as it can ever get. It is warm enough for heat sensations and slippery enough to make for easy penetration.
Pros
Proudly made in the USA
Discreet packaging for easy shipment
Fully natural ingredients
Colorless and tasteless
Fine with latex condoms and sex toys
Cons
Has an overbearing odor
Contains menthol which may cause a burning sensation
3. Wet Fun Water-Based Lubricant
Name: Wet Fun Water-Based Lubricant Our Rating:

(3.8 / 5)
The Wet Fun lubricant comes in different flavors and types. This water-based lubricant is great for lubrication along with special warmth that is just the ideal need. The lubricant is flavored although the flavors are sugar-free. It is therefore edible and fits the bill for oral sex. This non-staining lube is one of the best warming lube available today and is great for massaging and lubrication. Using this with latex condoms is not a problem as is with sex toys and much more.
Pros
Noticeably warm and arousing
Super-slippery and non-sticky lubrication
Does not stain and it cleans easily
Cons
Must be applied sparingly as it is very slippery
Bottle may sometimes be leaky
4. I-D Moments Warming Water Based Lubricant, 6.4-Ounce Bottle
Name: I-D Moments Our Rating:

(4.4 / 5)
The I-D Moments Warming Lube is the ideal sex lubricant for moments of passion and sexual passion. The lube is one of the best we have seen and its warmth is one that cannot be simply ignored. The I-D Moments Warming lube creates the ideal requirements for perfect sex. The ideal warmth and the ideal lubrication, for the ideal excitement and pleasure. There are no chemicals like glycerine and paraben to induce skin allergies and the water-based lube cleans from the body easily after the moment.
Pros
Sensual warmth for passionate moments
Slippery and non-sticky lube for the ideal lubrication
Easy cleaning because it is water-based
Free from allergy-inducing chemicals
Cons
Will need to be reapplied often as it is water-based
Verdict
The best warming lube should provide you the ideal warmth and pleasure as far as sexual lubrication is concerned. When you need the best lubes to provide that warmth and heat that is synonymous with heated sexual encounters, either of the K-Y Warming Jelly Lubricant or the Ocean Sensuals [G] Natural Female Stimulating Gel and Personal Lubricant takes the top spot on our list. All four makes good lubricants and will provide great warmth to further enhance the pleasure and excitement of your sexual encounters.
Final Words

Choose from any of the above lubricants when you need the best warming lube to help with proper lubrication and the special warm feeling of warm lubricants. Choose from these and you can thank us later as these will turn around your sex life.