Both Astroglide and KY are some of the biggest names in the lubricants market and it's important to know that they have been around for over a hundred years. They are two of the most commonly used lubes by millions of Americans and most people are often caught between both brands when trying to make a choice. In this article, we compare the Astroglide VS K-Y lubes and assess how both of these stack up against each other.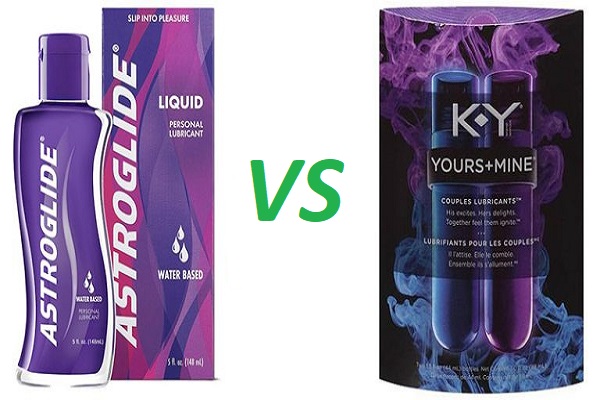 Astroglide Personal Lubricants: Overview
The Astroglide was an accidental invention as it was initially manufactured to remove anhydrous ammonia from the cooling system of a space shuttle program. It ended up being so slippery and alas, the accidental invention signaled a turning point in the bedroom and today, it is one of the top choices of people around the world for lubrication during sexual activities.
The Astroglide Personal Lube has a slightly acidic pH and to inhibit the growth of yeast. It also lacks fragrances and dyes which is the major culprit in the skin irritations that are usually induced in people with sensitive skin. Many consumers feel the Astroglide Personal Lubricant is slightly slicker and longer lasting when compared with the K-Y. This is probably because the Astroglide contains small amounts of Glycerin.
K-Y Personal Lube
The K-Y Personal Lubricants has been in production since the year 1904. They were originally intended to be used as lubricants for medical instruments during medical procedures. They were to be natural-based and free from any substance that could promote yeast or bacterial growth. Just like Astroglide, the lube is free from dyes, perfumes, and fragrances but not as acidic as Astroglide.
Water-based lubes are absorbed into the body quickly and so usually need to be reapplied often. The K-Y though is known to dry off quicker than most other brands of water-based lubes.
Astroglide VS K-Y Comparison
chart
Astroglide VS K-Y Comparison
When we assessed these lubricants, we found out that these lubes share great similarities as well as a few differences here and there. Both similarities and differences are well-documented below to give consumers a clear view of what they are getting.
Similarities
When compared, both of these lubricants were found to share some similarities and are almost equal in a lot of areas. Both of these share a silky soft texture that is slick, slippery and smooth enough to reduce friction. Both the Astroglide and K-Y are clear and non-staining liquids and the packaging is discreet, spill-proof and easily accessible.
Differences
The Astroglide's new formula is slightly thicker but this causes it to turn sticky and stringy after extended lovemaking sessions. Although you can combat this problem by applying more, some people do not actually like this stickiness and stringiness. The K-Y lube, on the other hand, does not have this problem.
The K-Y though has its own problem. It seems to dry off quicker than Astroglide, meaning you'll need to reapply more often during sex. There is also this unpleasant scent and flavor you'll have to deal with. Although this may not mean so much of a problem to many people, for some people, it could actually be a turn-off.
Astroglide VS KY Lubricants: Final Thoughts
The battle between both of these popular brands of sex lubricants is always there. Consumers are often caught between these as they have to choose one of these two excellent products. If we have to name a winner, we'll give it to the Astroglide lubricant though, although it seems to be a thin line dividing the two. The reason is due to its lack of offensive scents and as such is great for oral sex. It is also the best for both vaginal and anal sex because it reduces the risk of yeast infections and microbial growth. The K-Y is not a write-off though and both of these products work well for people all over the globe.